I was the first professional person,

in the worlds of Somatic Experiencing and Feldenkrais, to put a full-fledged course online that taught folks how to self-learn and then self-heal.
Many of my colleagues and mentors were skeptical. Some even said it was impossible, that you needed to be with a professional therapist, privately, to heal trauma. While there is no doubt that in-person work can be powerful and essential for many, I'm here to say (as are many others) that so much can happen in the comfort of our own home and under our own self-direction.
This decision to create an online curriculum was ~10 years ago, and during these years, we've made a lot of progress in how we deliver our paid courses and classes, how we support them, and the content is continually improving and evolving. Just like life, we need flow. Not stagnation. ♾
My team and I are experienced, and to date we've had close to 10,000 people in over 90 countries participate, learn, and heal.
If you've had a bad experience with other online courses, and you aren't sure about doing another one, trust me when I say, we've got the Gold Standard. I believe you'll notice a difference within Team Lyon's online "hallways."
Irene's Book Appearances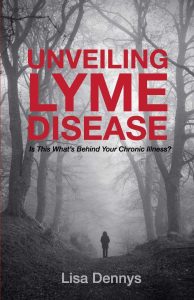 Unveiling Lyme Disease: Is This What's Behind Your Chronic Illness?
by Lisa Dennys
As one reader says, "If you are wondering whether this book is for you… this quote convinced me: 'This impact physically, emotionally, and financially for those with undiagnosed Lyme and their families, is brutal – and unnecessary. It happened to me, and it has impacted my husband, and every aspect of our life together for the past 30 years. I don't want it to happen to you. I want to show you how you can save a lot of time, money, suffering and anguish. I want to show you that you can take the steps you will need to take, to find the root of your undiagnosed illness and to ultimately return to the kind of health and life you have been missing.'" Irene is mentioned in acknowledgements and her work is referenced in several points throughout the book.
Learn more or purchase this book
Learn more about how stored trauma creates somatic symptoms (aka chronic illness)
Women Who Walk with Horses: Healing Through Horse Wisdom
by Tracy L. Gray
According to one reader, "There's a bit of something for everyone in this book, whether you walk with horses, love, fear or respect them—or are just curious. It's about what horses reflect and reveal through their honest nature." Irene is mentioned on page 106 alongside Dr. Peter Levine in reference to the practice of Resourcing and the author's view of horses as potential positive resources that can help us regulate our nervous systems.
Learn more or purchase this book
I hope you still have a speck of hope in you and you still have a belief and desire to be healthier and more regulated for your future.
To liberally paraphrase another pioneer of neuroplasticity and healing, Moshé Feldenkrais,
Self-knowledge clears the path for healing.
Onward