("Smitten-With" will be a feature on The Human Groove that will speak of funky things that I come across – people, places, spaces, books, articles – basically stuff I am "smitten-with".)
I was in Sausalito back in August.
These lovely mailboxes seemed a little lonely. So I took their picture.
They are sort of smiling – in an artsy creative sort of way – don't ya think?
They probably don't get a lot of action these days considering the e-gluttony going on with our means of communication. But, they made me smile and I felt they deserved "something." A picture at the least.
Plan, 'Schplam' (remember spontaneity?)
When I set out this morning the "plan" was to go into the woods of Mount Tamalpais for a walk. But I was diverted when I saw the signs for Sausalito and I took a spontaneous suggestion seriously: "pull off the 101 Irene! Quick! "
Glad I listened. The afternoon was glorious. After wandering the streets of Sausalito for nearly 3 hours I now know why (or at least I am giving it my best guess) the 'older' women I met while backpacking through Europe in my early 20's had such a glow on their faces. Sitting at the communal kitchens in the pensiones and hostels happily writing in their diaries:
They were in the midst of true spontaneity – no obligations, no ties just the pure joy of 'what they find around the next corner'. This my friends is the stuff that makes a 30-something women glow (or at least this 30-something gal).
a segway…..a few weeks prior to Sausalito….
…I was in Virginia Beach, VA.
In the name of 'budget' I spent 4 nights in a non air-conditioned hosteling international hostel. It was a personal and anthropological experiment. It was hot, humid and sticky. At first I felt the pangs to leave and find something more comfortable. But I didn't. I actually slept the best I've slept in months and shared a small space with a bunch of 20-something girls traveling in "Merica". I, now am, clearly that older 30-something women I mentioned in the paragraph above.  It was rather redeeming, satisfying and odd all at the same time and writing in my journal (we call them journals now, not diaries!) never felt so fine.
But back to Sausalito……
After 3 hours of wandering, I came away with a few pictures (the one above is by far the funkiest), checked out their very quaint library, wandered through some shops, climbed some very steep steps and spent a good chunk of time chatting with a lovely lady tending the local bookstore who was born and raised in Sausalito. I bought a book from her titled: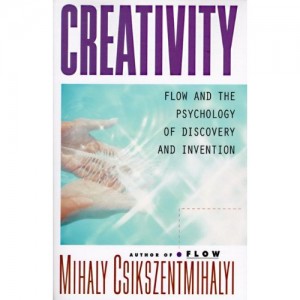 Creativity: Flow and the psychology of discovery and invention by Mihaly Csikszentmihalyi. Here is a little taster from p.6,
"….for better or for worse, our future is now closely tied to human creativity. The result will be determined in large part by our dreams and by the struggle to make them real."
A very different kind of conquest – a book?
When this happens you know somethings been liberated. Another 30-something thing I guess. What is interesting is that the book by Csikszentmihalyi, whose name I wish I knew how to pronounciate, was pivotal and has been a grand mentor since reading it.
Perhaps this kind of liberation takes place when we graciously diffuse ghosts of stigmas-past and actually turn around and take a step forward towards those urges that tell you to jump off the road (in this case the 101 North) and completely let go of all initial intentions for what you had 'planned'. For me that day, the spontaneity led to a few good pictures, simple human engagement and a really good book that I will continually return to.
Spontaneity, creativity and Sausalito seemed to go hand in hand that day.
Thanks for reading, Irene.