Hi folks,
Have you gotten acquainted with the free resources on my site? To help you navigate these offerings, my team and I recently curated a collection of these stellar resources in one handy bundle for you to download and keep.
If you're ready to dip your toes in the nervous system health and healing waters (and aren't quite ready to dive into one of my online courses), this is the place to do it. 
And to be honest, the wealth of information accessible there is more than enough to kickstart your healing journey. 
It's why we get comments like this all the time: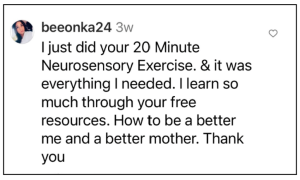 Here are just a few of the kinds of free resources on offer there (and some of the kind words from the folks utilizing them):
Free eBooks & Guides
"This stuff is gold. I've been through the wringer of re-traumatizing therapy and nearly useless therapies, and a year of sitting pretending to calm my mind (ha!). Yoga's been great, as has dance, but I wish I had found this stuff 20 years ago!"
Free Audio Samplers & Neurosensory Exercises
"Irene, this exercise is incredibly powerful. I did it last night before falling asleep, and I've been doing it this afternoon. It takes me out of my overwhelming emotions and makes me present to the lovely environment around me and the happiness and connection around me. It's powerful!" 
Video Trainings
"It is rather refreshing to sit and watch the videos, I sit here nodding along to the contents being taught. It's a reflection of sections of my life. I thought I was fearless at times, but actually it was that mask you described – put on for a performance for others. Maybe miracles do happen!"
Podcast Guest Appearances 
"I'm choosing to listen to your voice as I work with my system because you GET it. You KNOW what we are reclaiming through this work, and you explain it in ways that are relatable and digestible, even to folks who are extremely dysregulated." 
Stick around on my email list to stay connected to my latest blog content and updates on other free learning opportunities, like summits and live Q&As. 
My YouTube channel and my private Facebook group are the best places to keep in touch and ask questions. And my Instagram is best for fun, quick visuals and reminders. 
* * *
Feeling a bit overwhelmed? That makes sense. There is much we need to learn, and unlearn, in order to heal at the deepest level possible.
And…remember that just by being here, reading this, you're already doing the work. 
Go at your own pace. Know that every single step counts. Be very proud. 
To your learning (aka your healing).