A few months ago I was pondering the concept of starting up a podcast. 
Slowly, and in secret, over the past two months, I've met some of my peers and have recorded four enriching and educational long-form conversations that will be part of this podcast 'start-up.' (And we're just getting started!) 
I know this is something many of you have asked for, and today I have one that I'm excited to share. 
Please Note: Today's chat is not yet in official podcast format, but it is live on my YouTube channel for your viewing and listening pleasure. By the end of August, we should be up and running on the podcast platforms!  
* * *
Today I'm sharing a conversation I had with an amazing human named Donell (Donnie) Hill.
I met Donnie back in 2013'ish, when we were both learning the ropes of entrepreneurship. 
I reached out to him in early June, when the heat was starting to rise in and around the ongoing racism and lack of basic human rights that circulate and infiltrate many of our fellow humans in the black community. 
I reached out to him because I was captivated by his writings and shares via his social media feeds (some of which I share during our chat). 
I reached out to him because I sought counsel around some minor pressures I was having to 'show up' for my audience in a way that didn't feel aligned with my work and my purpose. 
This conversation is what transpired after our back and forth private messages and it was originally recorded on Friday, June 4 2020.
In our chat there are no magic solutions, zero 'how to's,' and certainly no apologies for being who we both are.
It's a simple conversation between two people who met a few years back and decided to reconnect on one common purpose: Healing trauma. 
Shortly after our chat, I recorded an editorial (opinion) of sorts, on our current times and the utter importance of trauma work from a somatic and higher brain perspective. I stressed that we MUST know the difference between the healing and trauma vortexes. You can watch that here. 
Irene's Musings
Yes, I'm sharing a meme with a crazy kitten on it. 😉 
This message felt on point at the time I shared it via my Instagram channel, and within hours it got 600+ likes and many comments, so it clearly hit a chord with many, and I wouldn't want to deprive anyone of this essential memo: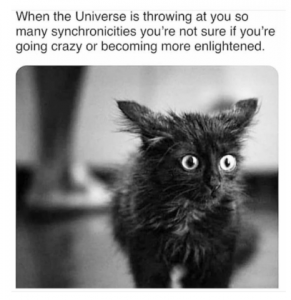 This was the note I added to it: 
TRUST ME. When synchronicities, alignment, déjà vu, and other uncanny and magical things start happening, it ain't crazy that it is happening. It is called nervous system regulation and human maturity (evolution). We want this. We need this. LOTS OF THIS. Keep focusing on the healing and the goodness that your biology wants, 'cause trust me, it wants goodness (not survival and stress).
**From this post, a few people asked me how nervous system regulation helps with alignment and being in sync with the universe, and to be honest, it's simple: 
When we are no longer living and reacting purely out of our survival stressors, and then when we remain like this for a chunk of time that is long enough to lay down new patterns of living and being (this is what nervous system rewiring and regulation is), we finally rise up to our human birthright. 
To be One and Unified. 
Like I said, it's simple.